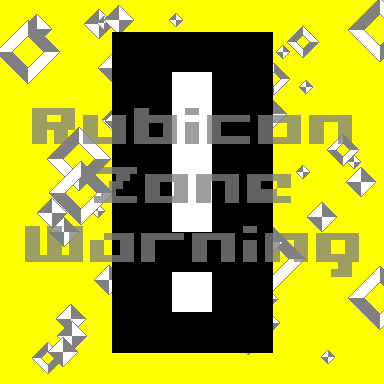 ---
Videos
View gameplay footage of Rubicon Zone Warning on YouTube
---
Images
---
Logo & Icon
---
Awards & Recognition
"I love this game!" You, soon
---
---
Selected Articles
"The game charges players with the task of disarming metaphysical bombs using "astral hacking" to crack time and space. The game "is and will remain free" upon its release, but those who donate to the developer will receive the Rubicon Zone Warning's soundtrack, a thank you letter and more. According to Milecki, players can also make their own content by editing the files directly; downloads of the game include a short guide on how to craft new levels."
- Megan Farokhmanesh, Polygon.com
---
Additional Links
Rubicon Zone Warning official site
The official site of Rubicon Zone Warning at tidegear.net.
Rubicon Zone Warning's soundtrack
See Main Finger's post about the soundtrack at mainfinger.com.
---
About Adam "TideGear" Milecki
Boilerplate
Hardcore gamer and indie-game developer, working as jack-of-all-trades in gaming.
More information
More information on Adam "TideGear" Milecki, our logo & relevant media are available here.
---
---
presskit() by Rami Ismail (Vlambeer) - also thanks to these fine folks